Counterpointer® is the first counterpoint instruction software ever to offer evaluation of both species and free counterpoint, and can serve both as a self-contained introduction to counterpoint and as a tool to accompany counterpoint textbooks. Version 3 is a free upgrade for all Counterpointer 2 customers and offers a new interface and compatibility with the latest computer systems (if you own Counterpointer 2 just visit our Installers page and use your serial number to download the new one).


Includes notation tools for entering and saving music and more than 150 user-controllable style rules


See YouTube video examples of how music is edited in Counterpointer.


Species counterpoint exercises based on a cantus firmus invented by the computer - always new.


Species counterpoint exercises based on the Fux examples (2, 3, and 4 parts)


Helpful feedback identifies style departures - you can re-evaluate repeatedly until you have a perfect score.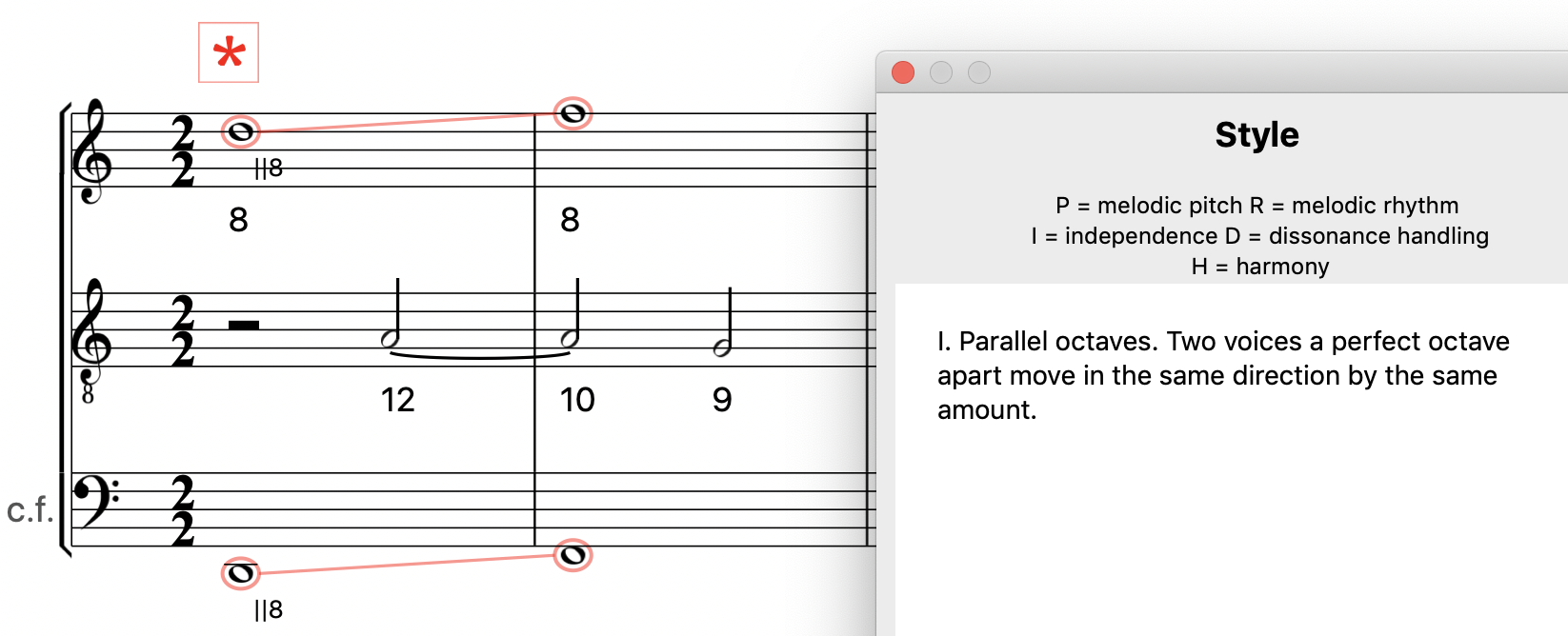 Exercises in realizing Roman numerals in 4-part vocal harmony (harmony based on Bach examples)


Exercises in realizing figured bass in 4-part vocal harmony (harmony and bass from Bach examples)


Free counterpoint in 2-8 voices using your own choice of style rules


An onscreen manual offering a basic introduction to counterpoint and explanations of each rule


Each staff can use any of the 127 MIDI instrument sounds.


Compositions can be saved, heard, printed, and exported as MIDI files or MusicXML files.


Counterpointer's student file is the same type as those used by Practica Musica: if you are in a class using Webstudents online reporting your progress can be reported to an instructor the same way as Practica Musica.


As with Practica Musica 7 and Songworks 4, notation is highly adjustable and can be edited either in left-right (panorama) or page view. Drag note stems to adjust flags and beams, drag bar lines to compress or expand measures (you are not required to have a fixed number of measures per line). Items will be positioned proportionally in each measure even when you shrink or expand a measure. Drag notes up or down to change their pitch, drag them left or right to fine-tune their positions, and drag control boxes to change the curve of a slur or the angle of a bracket.


Hear your work at either standard A440 pitch or A415 (A415 is often used by early music performers)


Windows and Mac versions are file-compatible (you can use the same music files with either). Note that Mac OS 12 Monterey users currently may experience the inability to change instrument sounds from the default piano. This feature will be restored in an update shortly.


Don't miss our free online counterpoint study!


And check the customer testimonials