Question: What's the difference between a diminished chord and a suspended chord? D.L.

Answer: A "suspended" chord, abbreviated "sus," is one that contains a dissonant tone that is about to resolve down to a normal chord tone. That might sound incomprehensible unless you're familiar with counterpoint, so here's an illustration: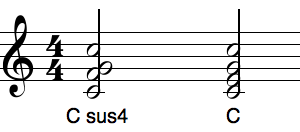 "Sus4" is the most common kind of suspended chord: these contain the interval of a fourth (maybe plus an octave or two) from their root. In counterpoint that fourth would be counted as a dissonance, and would be normally held over from a previous sonority (that is, suspended). Then it would slide down to a consonant third, resolving the tension. But in modern music a sus chord is often used just for its color, without actually resolving this way.
A diminished chord is one whose fifth is diminished. Usually the third is minor and the fifth diminished - making a stack of two minor thirds. A diminished seventh chord adds one more minor third to the stack, producing the interval of a diminished seventh between the outer notes. A half-diminished seventh chord adds a normal minor seventh instead of a diminished one: