Setting tempo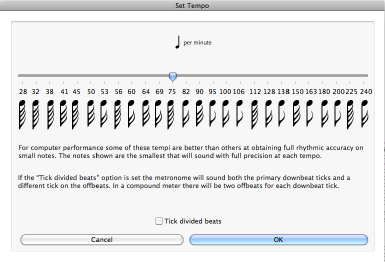 This window can be brought up with command-T (crtl-T on Windows), and sometimes the keyboard will display a button to do the same thing. It sets the tempo for the score, using a system similar to what you'd see on a metronome. The tempo window has radio buttons for a range of different tempi. You'll notice that each choice has underneath it a small note symbol - that tells you the value of the shortest note that the computer will be able to play accurately at the given tempo. This is due to the timing system used - when playing fast there may be certain speeds at which the time used by the smallest note doesn't come out even. But for most music this won't make any difference.
If you check the "tick divided beats" box the metronome will provide two ticks for each beat, using a different sound for the offbeat. In a compound meter a divided tick will be heard in three parts, with two offbeats.
Note that the miscellaneous tools popup also contains a "tempo change" tool that allows you to insert a change of tempo anywhere in a piece.